Meet the Snorer.com Dream team!
Snorer.com brings together like-minded, passionate individuals who want to help save and improve lives affected by snoring and sleep apnoea
We are very lucky and grateful to work with some genuinely expert, helpful people. Without their support, Snorer.com would not exist. Feel free to explore their profiles.
Emma Easton
'Head of Amazing' (Sales & Marketing Director)
Support team
Some of our technical team wish to remain anonymous – and as we're supporters of anonymity, we're complying! We've had specialists working on:
Technical modelling / architecture
Online security
Web front end
Web back end
Speed optimisation: Singularity Stack ↗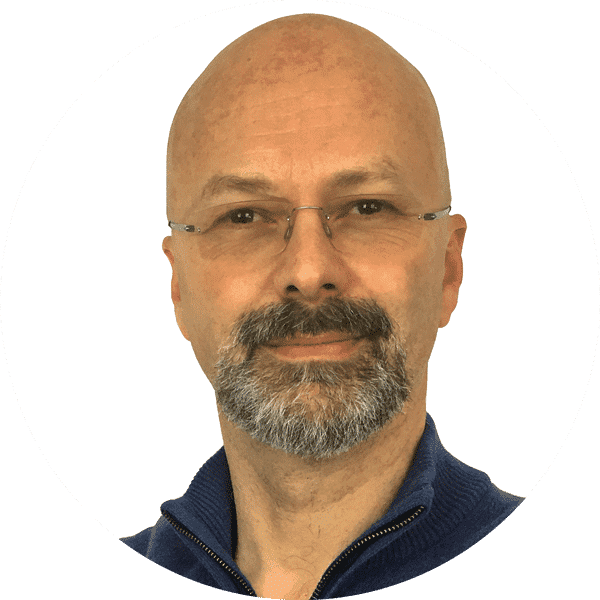 Adrian Zacher MBA
Author, Snoring and Sleep Apnoea Care Navigator

I teach healthcare professionals how to help their patients stop snoring; sleep and breathe at the same time.
Adrian Zacher MBA, Founder and Managing Director
I am the author and founder of Snorer.com.
Perhaps the easiest way to describe what I'm about is to call me a snoring and sleep apnoea care navigator and healthcare professional trainer.
Being offended by the exploitation of desperate snorers and counter-productive medical disclosure rules; I have plenty to write about!
After leaving school at 16, I trained to be a dental technician. Fast forward about a decade, and I found myself making custom devices to hold a patient's jaw in a forward position. The idea was that if this stopped their snoring, surgery to permanently move it, could be justified.
As people found they preferred to use an oral appliance than undergo major, face-changing surgery; I set up the first dental lab in Europe specialising in custom-made anti-snoring devices (1995).

ZSA – Zacher Sleep Appliances logo circa 2003
I invented a trial/titration oral appliance ↗ and a new approach to oral appliance therapy: 'theragnostic'.
Which, I am pleased to see Zephyr Sleep Technologies have continued developing.
Above is a 3D CAD model of the SMART award winning theragnostic oral appliance that Adrian invented, illustrating the range of titratable movements available.
Adrian receiving his SMART Award (Small firms Merit Award for Innovation). Presented by Kevin Hunt, Director SBS South East, on behalf of Patricia Hewitt, Secretary of State for Trade and Industry. (2000)
11 years of Zacher Sleep Appliances later, I recommended ResMed ↗ acquire Laboratoires Narval (an innovative anti-snoring device manufacturer), completed an MBA, wrote a chapter in a dental text book about sleep, and was headhunted by ResMed to eat my way around Europe (ostensibly to commercialise their anti-snoring device).
Life changed in 2011 when Emma and I married and the following year our son was born and I became a 'stay-at-home' Dad. I encountered most of the prejudices a child-caring father does…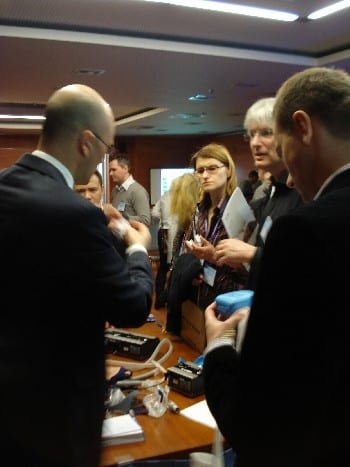 Adrian demonstrating the ResMed Narval MRD at the Sleep and Breathing meeting in Prague 2011.
Reflecting on my own 'Googling' of symptoms and misguided attempts to 'diagnose' my infant son's respiratory issues, the misinformation online appalled me.
I'm a "Do what you can" sort of guy, so in 2012 I co-authored 5 information guides with highly-respected medical experts in each snoring and sleep apnoea discipline, and setup Snorer.com to make them freely available. Today, they are also on Amazon Kindle ↗ and Google Play books ↗.
By now, after two decades in the sleep industry, I was known amongst my friends as someone who knew a bit about snoring and sleep apnoea. I was asked how they could covertly get help, as they wouldn't risk talking to a doctor about their drowsiness (What?!)
The problem is that truck drivers and pilots (and others in jobs where staying alert is critical) fear losing that job should they consult a doctor about their sleepiness. GPs are now compelled to disclose confidential information to the authorities about a patient's suspected drowsiness if they intend to continue working.
Which simply means the drowsy truck driver or pilot won't talk to their GP and confirms the industry-wide belief that sleep apnoea kills your career. Plainly an insane situation for everyone as it doesn't bear thinking about them crashing should they nod off for even a moment, driving a 40-tonne petrol lorry or flying a 747 with 400 passengers on board…
In response to this, I came up with the idea of anonymous sleep apnoea testing as 'confidential' had clearly lost its meaning and something had to change. I found myself looking in truck cabs as I drove past them on the M40!
In 2015 my wife must have thought I was doing OK as a stay-at-home Dad, because our second child was born, and I now have two wonderful children to care for.
Having been through all the emotions about unscrupulous companies' encouragement to self-diagnose and self-treat 'snoring', I turned my attention back to the online snake oil and dubious science used to sell such gadgets to unsuspecting snorers over the counter (OTC) or directly online.
I studied the market, I studied the regulatory perspective, and I tried to get the regulators to act – fail.
Now, I am not one to give up. If you've got this far, you will have gathered that!
Recognising that GPs are the snorer's "first to mind" when they need help.
And that the poor GP has nothing much to offer those that aren't sleepy or have health problems, there was a knowledge and treatment gap, into which the charlatans leapt to sell their gadgets.
So, I created an 'app' or web-based application to direct snorers (and the poor GP) to the most appropriate expert. And unlike some of my competitors decided to go 'the whole hog' and make it registered Software as a Medical Device. Which means it's based on more than guess work: I produced my 'technical dossier' and applied the CE mark.
Signposting directs 'snorers' to the most appropriate type of professional – to be screened for sleep apnoea before considering what to do next.
Snorer.me Signposting™ directs snorers to the most appropriate type of expert to help them. It grabs their sleep and health assessment data and sends it to their chosen expert. They visit said expert, and everyone is in the right place at the right time, with the information needed to help them, collected earlier.
I teach dentists (and anybody else who will listen!) how to help their patients stop snoring. Here I am at a 10 day course organised by Cephtactics (Nov 19).
In my spare time (haha!) I'm pleased to be a part of the OSA Partnership Group ↗.
The group's aims are to raise awareness of the symptoms of OSA, the availability of treatment to manage these symptoms and the implications of the condition if untreated.
Still awake? 😉
Emma Easton MA BA(Hons) PgC, Head of Amazing
Emma has had a varied career across numerous sectors. The common element has been helping people and making processes simple. This is one of the skills she brings to Snorer.com.
Having initially trained as a graphic information designer, Emma went on to win international awards for design and print. She undertook an MA in Design Management, moving her career into the more managerial side of design; working as a project manager in web design and build industries. After a few years and a relocation, Emma's career evolved into IT consultancy, and she then set up and ran her own successful events company.
After many years in events, Emma wanted a change, and moved into career and talent management, working in a strategic career advisory, retraining with the first cohort of the CIPDs PgC in Career and Talent Management.
Having worked as 'Head of Amazing' and an Account Director in a leading B2B marketing agency, and more recently at M3 (EU) Ltd↗ / Doctors.net.uk,↗ Emma now runs her own consultancy business: https://business-bollox.co.uk ↗.
Emma writes the blog The Snoring Lady↗.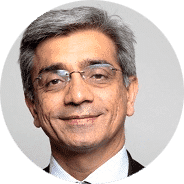 Bhik Kotecha MB BCh, MPhil, FRCS (Ed, Eng, Orl), DLO
Professor Bhik Kotecha was the Clinical Lead for the Sleep Disorders Unit at the Royal National Throat, Nose & Ear Hospital, London.
He has been in this role since 1998. He was born in Kenya and has been in UK since 1972. He has a medical degree obtained in 1984 in Cardiff and a Postgraduate M.Phil., from the University of Sussex.
He is a Fellow of Royal College of Surgeons of England and a Fellow of Royal College of Surgeons of Edinburgh. A member of Court of Examiners for Royal College of Surgeons of England, he was previously President of Sleep Medicine Section at Royal Society of Medicine, London 2009-2011.
Assistant Editor for Journal of Laryngology and Otology
NHS Consultant in ENT Surgery at Queens Hospital, Romford, Essex (Barking, Havering and Redbridge NHS Trust) and Royal National Throat, Nose & Ear Hospital (UCLH)
Senior Lecturer at UCL since 1995
Associate Professor at AUC, School of Medicine, USA
Lectured nationally and internationally at various Sleep Medicine related conferences
Appeared on various TV and Radio programmes to heighten the awareness of problems related to sleep disorders including

BBC Breakfast
BBC World
GMTV
Anglia Television
Discovery Channel

Published widely in the field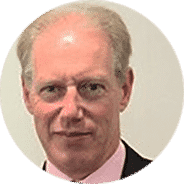 Iain Ormiston BDS, LRCP, MRCS, FDSRCS, FCSHK, FHKAM, FRCS
Professor Ormiston is doubly qualified in medicine and dentistry holding dental and medical/surgical fellowships, FDSRCS, FRCS and is also a Fellow of the Hong Kong Academy of Medicine.
While his dental and medical/surgical training were in the UK, much of his post medical maxillofacial training was under Professor Henk Tideman at University of Hong Kong.
Mr Ormiston sits on the Board of Sleep Section of Royal Society of Medicine, London and on the Board of British Society of Dental Sleep Medicine.

He is currently a consultant Oral and Maxillofacial Cleft Surgeon and also Head of service for the departments of Maxillofacial, Restorative Dentistry and Orthodontics at the University Hospitals of Leicester, UK.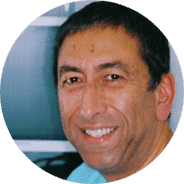 Dr Roy Dookun BDS, MFGDP (UK), MGDSRCS (ENG), FFGDP (UK), DIP DENT SED
Dr Dookun is a GDP (General Dental Practitioner) practicing in Guernsey with a particular interest in the treatment of snoring and OSA patients.
Dr Dookun is a past president and co-founder of the BSDSM (British Society of Dental Sleep Medicine

), Board member of the European Academy of Dental Sleep Medicine

and Board member of the ARTP SAC (Association for Respiratory Technology and Physiology) Sleep Apnoea Consortium.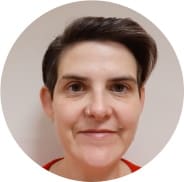 Dr Lizzie Hill PhD RPSGT EST
Dr Lizzie Hill PhD has worked in the field of sleep medicine since 2000. She is a Registered Polysomnographic Technologist, trained in the Department of Sleep Medicine at the Royal Infirmary of Edinburgh. 
Lizzie teaches the MSc in Sleep

 at the University of Oxford. 
In 2005, she was appointed Sleep Services Manager of The Edinburgh Sleep Centre,

Scotland's only private sleep disorders centre. She is a trained sleep counsellor, working with teenagers with sleep problems and additional support needs for the charity, Sleep Scotland.

Lizzie completed her Research Fellowship in the Department of Sleep Medicine at the Royal Infirmary of Edinburgh, investigating prevalence and treatment of sleep apnoea in adults with Down's Syndrome. She is the UK national delegate and President of the European Society of Sleep Technologists and a member of the Executive Committee of the British Sleep Society,

  with editorial responsibility for the BSS newsletter.
As well as sleep, she enjoys yoga, skiing, campervanning and real ale.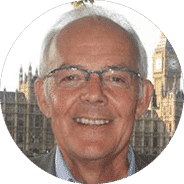 Adrian Williams FRCP DIPAASM
Professor Williams is clinical director, consultant sleep and respiratory physician, Guy's and St Thomas' hospital, London, UK., and a Diplomat of the American Board of Sleep Medicine,↗ a founding member of The British Sleep Foundation, the Sleep Medicine Section of the Royal Society of Medicine, and the R.L.S. UK Group.
He has published extensively on Sleep Disorders including more than 100 peer reviewed original scientific papers and more than 40 other published papers including chapters and books.
Adrian Williams graduated from University College Hospital, London and, after training in General Medicine there, took up a lectureship at The Cardiothoracic Institute, Brompton Hospital, investigating the pulmonary changes associated with chronic liver disease. In 1975 he took tenure at Harvard Medical School where his interest in sleep began with the investigation of Sudden Infant Death Syndrome (S.I.D.S). Here he published a definitive study implicating Obstructive Sleep Apnoea (OSA) as a cause of the syndrome. In 1977, took up a post as Chest Physician at U.C.L.A. where he further developed his interest in OSA and published one of the very first reports of OSA causing hypertension and of oximetry as a natural diagnostic tool.
In 1985 Prof Williams became tenured Professor of Medicine at U.C.L.A. and Co-Director of U.C.L.A's Sleep Laboratory and was one of the first to become a Fellow of the American Academy of Sleep Medicine (AASM).↗ In 1994, he returned to the UK taking up the directorship of the Sleep Disorders Centre at St Thomas's Hospital. Here he developed one of the UK's only comprehensive sleep services with continued interest in Sleep Disordered Breathing and its treatment.
In 2010, King's College, London appointed him as the first substantive Professorial Chair in Sleep Medicine in the UK.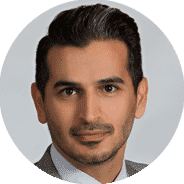 Dr Shouresh Charkhandeh is the Chief Dental Officer at Zephyr Sleep Technologies, the developer of "MATRx TM" Technology. He is the recipient of the "2012 & 2015 Clinical Research Award" and "2015 Clinical Excellence Award" from the
American Academy of Dental Sleep Medicine (AADSM).
↗
Dr Charkhandeh received his Doctor of Dental Surgery (DDS) Degree and Bachelor of Medical Sciences from the University of Alberta, Canada. He is a Fellow of The International Association of Physiologic Aesthetics and also a Fellow of Las Vegas Institute for Advanced Dental Studies. He then furthered his education and training by completing a Research Fellowship in the area of "Sleep and Dental Sleep Medicine" at the University of Antwerp Hospital (UZA), in Antwerp, Belgium.
Shouresh is a general dentist who maintains a group of private practices in Edmonton and Calgary with an interest in Dental Sleep Medicine and TMD. He is actively involved in clinical research in Dental Sleep Medicine and his research focuses on developing new technologies to improve treatment outcome predictability and patient selection in Oral Appliance Therapy for patients with OSA (i.e. Obstructive Sleep Apnea).
Dr. Charkhandeh is a major advocate for the importance of a multidisciplinary approach to Dental Sleep Medicine which focuses on the collaboration of Sleep Physicians, Sleep Dentists and other healthcare professionals. He has been treating OSA patients for many years and also has trained hundreds of dentists in Dental Sleep Medicine.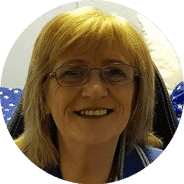 Kath has first-hand experience as she has sleep apnoea herself, so can truly empathise with the OSA patients her charity Hope2Sleep supports.
Kath runs the charity
Hope2Sleep
↗, along with associated online forums, where her mission is to raise awareness of sleep apnoea and provide comfort accessories and masks for CPAP/ BIPAP/ APAP treatment. She also offers free support for newly diagnosed sleep apnoea sufferers in order to help them comply with their CPAP treatment.
She is an active member of the British Lung Foundation's ↗ OSA Advisory Panel, is an 'Expert Patient' of Guys & St Thomas' Hospital, London and regularly liaises with sleep clinicians to help their patients struggling with CPAP.
Snorer.me Signposting and the ASAP Anonymous Sleep Apnoea Process are both CE marked Clinical Decision Support Systems (CDSS) Software as a Medical Device (SaMD). 
Snorer.com Ltd. is the manufacturer registered with the UK Medicines and Healthcare Products Regulatory Authority. Copyright Snorer.com (2019) All rights reserved. 
Page created by Emma Easton | Page last updated 23rd July 2020.