How to Choose a Mouthpiece to Stop Snoring
Download our free Information Guide 'How to choose a mouthpiece to stop snoring.' You'll learn more about this often unknown way to treat snoring and sleep apnoea.
Once you've read this Guide, also read our blog on over-the-counter snoring treatments, before you purchase anything!
There are two basic groups of mouthpieces that may help with snoring by holding your jaw forwards.
The first group you can buy in shops and online, they are the so called "one-size-fits-all" type also variously known as non-custom, 'self-fit', 'boil and bite' anti-snoring mouthpieces.
The second group of mouthpieces or mandibular advancement splint is custom-made exclusively for you by a dentist with a special interest in sleep apnoea/apnea.
Be careful not to confuse custom-made with customised. There are many different types of mouthpieces, with different mechanisms to connect the two jaws and hold your lower jaw forwards.
We're proud that all of our Information Guides are accredited by the NHS Information Standard, which is a quality mark supported by NHS England that helps people to choose reliable health and social care information.
How to Choose a Mouthpiece to Stop Snoring
Download our free Information Guide.
In this Guide you'll learn about mouthpieces. These oral appliances are not like the bulky ones used as mouthguards in sport. These anti-snoring devices, sometimes referred to as MRDs are a simple and effective way to hold your airway open to stop snoring.
However, they need to be fitted correctly, by a trained dentist to make sure they are right for you. Find out about the different types, read a comparison between custom made and over-the-counter devices, and know what to check for when being fitted.
It is a MUST READ for anyone who is considering buying a mouthpiece or MRD to treat their snoring. It could save you time, money and get you sleeping well again.
Adrian Zacher
Want to learn more?
If you haven't already, read our popular blog about over-the-counter anti-snoring devices, and learn what you need to know before you considering buying one.
You might also like to understand more about snoring and sleep apnoea, so we'd suggest reading our Snoring and Obstructive Sleep Apnoea Overview Guide, which was Highly Commended in the British Medical Association Patient Information Awards in 2016.
Then test your knowledge with our two deceptively simple quizzes:
The Online Snoring Quiz is focused on snoring and sleep apnoea risk factors, diagnosis and treatment options.
The Sleep Apnoea Symptoms Quiz – is hopefully self explanatory.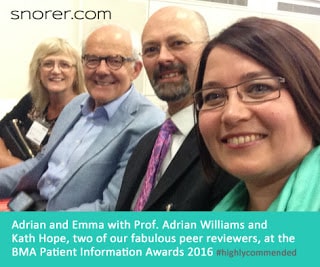 Please take a moment and write a TrustPilot review, to help others find useful resources. Thanks!
Created by Emma Easton | Page last updated 24th May 2018