How to choose Positive Airway Pressure (CPAP) Therapy Information Guide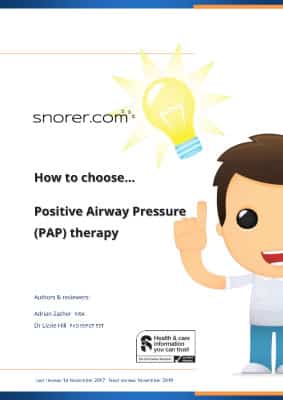 What's inside?
CPAP therapy involves wearing a mask over your face while you sleep, to force air through your nose (and sometimes your mouth as well).
This 'pressurised' air prevents your airway from closing when you breathe in.
The.re are several CPAP machine manufacturers and it is considered the best solution for moderate to severe obstructive sleep apnoea/apnea (OSA).
For one reason or another, it doesn't work for everyone, and some people find wearing a face mask in bed every night difficult to get along with.
CPAP was first invented in the 1980s, and the technology has developed since then. However, overcoming the difficulties that CPAP users experience remains a development focus for manufacturers and new features such as:
improved mask design,
warming and humidifying the air,
raising the air pressure from a low level as you fall asleep and
varying the air pressure as you breathe in and out,
are all fairly recent advances.
This 3 part Information Guide takes you through the various mask options and the essentials of CPAP machines and then includes a user feedback section.
New users…
New users may be worried about using PAP for the first time. The sensation of having air blown at you can be strange to get used to.
One user likened it to sticking your head out of the window of a moving car and some people have found that they initially gasped to catch their breath.
It's worth persevering, as the benefits are substantial!
Appendices This fully referenced Information Guide then concludes with an Acronym glossary, References, Bibliography, details of Support groups and more.
"Since I was diagnosed with the condition, having a 'pump' has been a real God-Send, as I now not only get a deep sleep (beyond REM), I do not snore at all. Also my wife gets a good night sleep, and the pump is quiet enough so as not to disturb her. Even the cat doesn't mind! It also of course means I am no longer tired during the day at work, where previously I had been through a spell of nodding off".
How to choose Positive Airway Pressure (CPAP) Therapy
Download our free Information Guide
In this Guide you'll learn about positive airway pressure, also known as CPAP. What to expect, the various masks available, explanation of medical terms that you're likely to hear, along with feedback from new users including common experiences.
It is a MUST READ for anyone who wants to learn more about this treatment or who has been prescribed PAP.
Adrian Zacher
Want to learn more?
Read our Snoring and Obstructive Sleep Apnoea Overview Guide, which was Highly Commended in the British Medical Association Patient Information Awards in 2016.
Once you've read our Guides, you might like to test your knowledge with our two deceptively simple quizzes:
The Online Snoring Quiz is focused on snoring and sleep apnoea risk factors, diagnosis and treatment options. There are more options than just CPAP!
The Sleep Apnoea Symptoms Quiz – is hopefully self explanatory.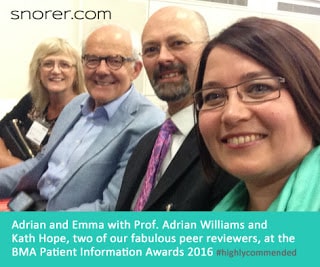 Please take a moment and write a TrustPilot review, of our CPAP Guide to help others find useful resources. Thanks!
Created by Emma Easton | Page last updated 3rd June 2018