Download for free, our 'Partners Guide' for the concerned partners and family members of snorers.
We're proud that all of our Information Guides are accredited by the NHS Information Standard, which is a quality mark supported by NHS England that helps people to choose reliable health and social care information.
Partner's Guide - Information for those who want to help a snorer
Download for free, without registration our Information Guide
In this Guide you'll learn about snoring. How to talk with your partner (or family member) about their snoring, learn about what happens when you sleep and snore, what happens when it becomes more serious, the risk of obstructive sleep apnoea, and what you can do.
It is a MUST READ for anyone who is worried about a loved one's snoring.
Adrian Zacher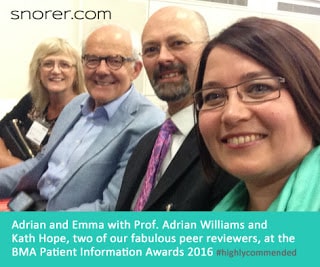 Please take a moment and either give this Guide a star rating below or write a review, to help others find useful resources. Thanks!
Created by Emma Easton | Page last updated 21st February 2018