Why is it needed? Isn't confidential enough?
A survey undertaken by the Freight Transport Association (FTA) found that 98% of members agreed drivers were unlikely to raise concerns about OSA with their GP, the DVLA or their employer, for fear of losing their licence.
Note:
an estimated 21% of commercial drivers have undiagnosed sleep apnoea. They are unlikely to come forward for help if it takes multiple GP appointments to get tested and treated. Consequently, they continue to drive whilst drowsy, putting themselves and others at risk.

Trust, in the concept of a confidential conversation with your GP about your health has now been obliterated.
In 2016, Adrian wrote about 'The Destruction of GP/Patient trust'. Adrian observed that GPs were now place in an impossible position (acting as both the GP and 'Policeman') and how this counterproductive move would destroy trust.
Two reasons we believe people don't come forward for help the 'traditional' way (that we do something about, and we suspect there are many more), are:
Concerns about the impact on livelihood
and data security
We've recognised the need for the individual to remain anonymous, whilst finding out if they have a sleep-related breathing disorder.
And we've done something about it.
We provide employers with a way to help their team and protect both their business reputation and bottom-line. We work with responsible employers of choice, to provide anonymous sleep apnoea testing, as an employee benefit.
Accelerated NHS treatment would most likely be offered for those with obstructive sleep apnoea syndrome. The employee would most likely commence treatment that night and be back to work in the morning, with no impact to their licence.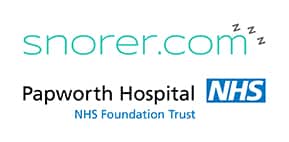 Snorer.com has created the ASAP Anonymous Sleep Apnoea Process™ to complement existing testing and treatment channels. We've teamed up with Royal Papworth Hospital NHS Foundation Trust

to provide anonymous home sleep testing, resulting in a professional diagnosis by a specialist sleep consultant from the only sleep centre in the UK accredited by both the British and European sleep societies.
ASAP™ also offers an accelerated NHS treatment route, so diagnosed individuals may request to be 'fast tracked' with Royal Papworth Hospital. They can arrange treatment within five working days of hospital receipt of the GP referral.

ASAP™ is CE marked, standalone, software as a medical device (SaMD)
The manufacturer of ASAP Anonymous Sleep Apnoea Process™ is Snorer.com Ltd. Sleep House, 94 High Street, Sutton Courtenay, Abingdon, Oxfordshire, OX14 4AX. UK.
Offering ASAP™ to employees will be beneficial from multiple perspectives, including:
Your business and their health.
Medical precedent suggests that individuals are more likely to seek help from their GP once they become aware they have a condition (or at the very least modify their habits and actions) and they seek help on average 10 months earlier, than those who are unaware.1
ASAP™ anonymous home sleep testing, permits anyone to test without fear of the immediate consequences. Once treated, they may be restored to previous levels of alertness with much improved productivity and vigilance.
Commonly patients report feeling "ten years younger". Their life expectancy generally increases and they may also see a reduction in the need for other medications.
1. British Lung Foundation, Obstructive sleep apnoea patient experience survey; J Harris, R Reeves, M Allen, I Jarrold, J Horne; 2013↩ 
Created by Emma Easton

| Page last updated 26th June 2018 | ASAP™ is CE marked standalone, software as a medical device (SaMD).


ASAP™ manufacturer is Snorer.com Ltd. Sleep House, 94 High Street, Sutton Courtenay, Abingdon, Oxfordshire, OX14 4AX. UK.