Following my Why can't I say FAT? post, I was delighted to hear of a recent study in Oxford, that suggests GPs should proactively raise the topic of weight loss with obese patients.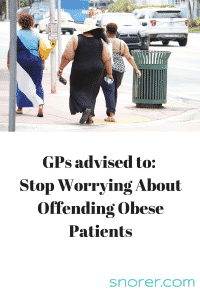 Professor Arroll from New Zealand, who wrote an editorial about the research, says he can't get over how little objection participants had to the topic of weight loss being raised.
Lead author professor Paul Aveyard, a practicing GP said "Doctors can be concerned about offending their patients by discussing their weight, but evidence from this trial shows that they should be much less worried."
"Our study found that a brief, 30-second conversation, followed by help booking the first appointment on to a community weight loss programme, leads to weight loss and is welcomed by patients."
The study by Professors Boyd Swinburn and Arroll et al was published in 'The Lancet' and it found that four fifths of participants across both groups found the GP's intervention "appropriate and helpful".
Just 0.2% found it "inappropriate and unhelpful".
Clearly, PC culture is not helping people address their issues. Candid, sensitive help from a GP who can DO something is evidently superior to being 'polite'.
Reference:
Screening and brief intervention for obesity in primary care: a parallel, two-arm, randomised trial. http://www.thelancet.com/journals/lancet/article/PIIS0140-6736(16)31893-1/abstract [accessed 25 October 2016]