On-demand, Professional Education Academy about sleep and snoring specifically for the dentist

Become an expert and bring a new skill to your practice…
Sleep-trained dentists can help snorers and treat snoring!
Snorer.training has launched!
Train to screen snorers for sleep apnoea, build your business and help more patients, whilst becoming an expert in an emerging field.
(Academy training is currently exclusively for UK dentists. As they medico-legally can screen for OSA. We're working on an international version.)
The Snorer.training Academy provides verifiable CPD about Dental Sleep Medicine, for general dentists and support staff wishing to further their knowledge and understanding of snoring and obstructive sleep apnoea (OSA).
Begin immediately (the first two chapters are free!)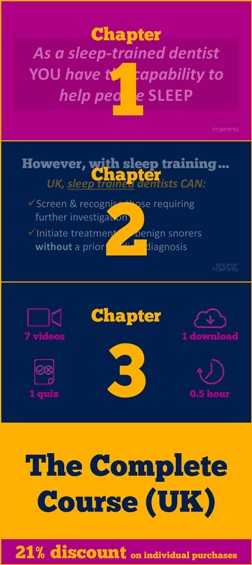 Course tutor and presenter
Learn from Adrian Zacher, founder of Snorer.com and co-founder and former CEO of the British Society of Dental Sleep Medicine. He was the dental sleep medicine subject matter expert and International Business Development Manager for ResMed, studied at Judge Business School in Cambridge and brings over 20 years experience and international market insight to help YOU help more patients.
Simple
Easy to use resources – whether you prefer written words, on-demand video or live webinars with Q&As, useful content has been created to suit you.
Accessible
Whether you want to check something whilst you're in clinic, or during your lunch break, or if you have time in the evening or over the weekend, you can dip into 20+ years knowledge whenever convenient.
Appropriate
Every day is a school day! Whether you're new to sleep medicine or have been on a few courses, there are still things to learn.
With course content and resources created by the founder and other industry leaders, you can be sure you'll take something away to implement straight away.
Impartial
We're not tied to any device manufacturer or therapy provider, so what you learn is completely impartial.
Having a broad knowledge means that you'll be well placed to prescribe the device that suits your patient best.
This is a very simple, yet effective tool to learn about Dental Sleep Medicine. The online nature of the program allows you to learn at your own pace and schedule.
Also, the information provided will be a great starting point for any dentist who's interested in learning about Dental Sleep Medicine.
In summary; a well-organized, thorough online learning tool!!
Dr Shouresh Charkhandeh DDS
Academy Training User Reviews
1. Stradling,J, Dookun,R "Snoring and the role of the GDP: British Society of Dental Sleep Medicine (BSDSM) pre-treatment screening protocol", British Dental Journal 206, 307 – 312 (2009)
Published online: 28 March 2009 | doi:10.1038/sj.bdj.2009.214. http://www.nature.com/bdj/journal/v206/n6/full/sj.bdj.2009.214.html

[accessed 04 July 2016]↩
2. ARTP Standards of Care for Mandibular Repositioning Devices. http://www.artp.org.uk/download.cfm/docid/63B69B37-37E8-48D1-8A6B92749EDFDD1E

[accessed 04 July 2016]↩
© Snorer.com / snorer.training 2017/2018. All rights reserved.
Images © Tyler Olson/www.shutterstock.com
Created by Emma Easton

| Page last updated 19th May 2018