Snoring can be treated in a number of ways.
It can be difficult knowing where to go for treatment, UNTIL NOW!
Snorer.me is about to launch! It's a new, free, online signposting tool that uses industry recognised triage questions to connect snorers with the most appropriate professionals, in order to get treated.
Easy process
Answer a handful of questions to be signposted to the most appropriate treatment route for you.
Download your answers and take them with you to any health appointment to speed your treatment.
Effective
Many over-the-counter treatments have been found to be ineffective1, wasting your time and money.
By using snorer.me you not only find a treatment route that suits you, but you are signposted to medical/dental professionals who will work to your specific needs.
Impartial
snorer.me isn't tied to any therapy provider or device manufacturer.
This means that you can be assured of signposting that is appropriate to your situation (not to a supplier that pays the most commission).
Signposting points you in the right direction to get the help you need. Depending on the answers you give to a handful of questions, the Snorer.me signposting tool will direct you to a sleep trained dentist, back to your GP or to anonymous testing if you're concerned about your livelihood.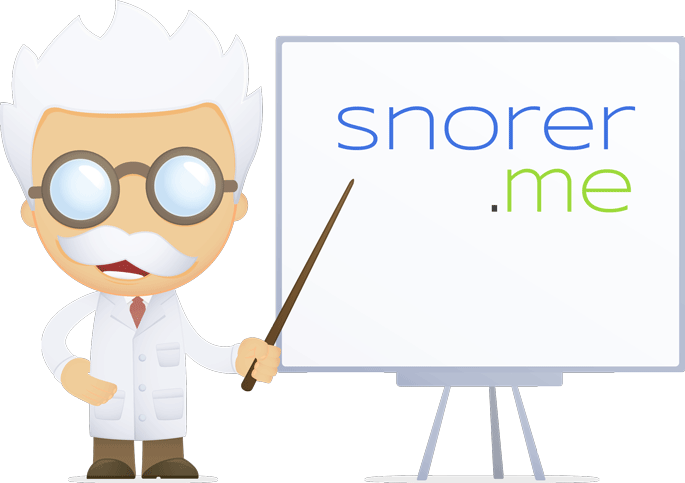 Can't I just use Google?
You could use Google (other search engines are available!), but how would you differentiate between the thousands of results? Which are credible? Does that site want to sell you a snoring cure without your full medical history? Could that harm you? Has it been proven to work?
How we're different
The Snorer.me Signposting Tool directs you to the most appropriate professional help for you (based on your answers) so you don't have to make a self-diagnosis (which can be dangerous), and you don't have to guess which gadget to buy or person to see (wasting time and money).
The Snorer.me report
saves you and your GP/sleep-trained-dentist time
, as, based on the answers you've given, they can act quickly and with confidence to sort your snoring for good.
Using your Snorer.me report, your GP might suggest self help, they might refer you for a sleep study or to another specialist. The tool might direct you to a sleep trained dentist who will further check you to make sure that any oral appliance they fit will work for you and not cause any problems… which wouldn't happen if you bought an anti-snoring mouthpiece online, or over the counter.
Using a published protocol2, approved by the Association for Respiratory Technology and Physiology (ARTP)3 and the British Thoracic Society, this is not a dodgy online offering. This is a CE marked 'clinical decision support system'.
Bringing together the expertise of GPs, sleep-trained dentists, hospital specialists and pharmacists, after answering a few simple questions, we can direct you to the best avenue for an effective snoring treatment.
It's easy to pretend you don't have a snoring/sleepiness problem… but on the otherhand who hasn't convinced themselves of imminent death after browsing the web? This is your valid alternative!
1. BBC "Snoring 'cures' fail for majority", 2009. http://news.bbc.co.uk/1/hi/health/8067729.stm

[accessed 04 July 2016]↩
2. Stradling,J, Dookun,R "Snoring and the role of the GDP: British Society of Dental Sleep Medicine (BSDSM) pre-treatment screening protocol", British Dental Journal 206, 307 – 312 (2009)
Published online: 28 March 2009 | doi:10.1038/sj.bdj.2009.214. http://www.nature.com/bdj/journal/v206/n6/full/sj.bdj.2009.214.html

[accessed 04 July 2016]↩
3. ARTP Standards of Care for Mandibular Repositioning Devices. http://www.artp.org.uk/download.cfm/docid/63B69B37-37E8-48D1-8A6B92749EDFDD1E

[accessed 04 July 2016]↩
© Snorer.com Ltd / snorer.me 2018. All rights reserved.
Images © artenot/www.shutterstock.com
Created by Emma Easton  | Page last updated 12th Dec 2018
Snorer.me signposting is CE marked, standalone, clinical decision support software, software as a medical device.
The manufacturer is Snorer.com Ltd. 2 Baynards Green Farm Cottage, Baynards Green, Bicester, Oxfordshire, OX27 7SG, UK.