Sleep Apnoea / Apnea makes NO SOUND
Sleep apnoea makes no sound. It's the SILENT pauses between snores (or ideally breaths). Yes, its a trick question.
Waking up alone, because you snore, is miserable.
Its terrible for a relationship.
The snorer carries on snoring and if they snore because they have sleep apnoea – it often goes untreated. Perhaps for years or even forever!
Here's a short video (1 minute) of a sleep apnoea episode. Have you seen this in someone you love? Do you recognise this in yourself?
Your GP can help.
Do not delay – get in touch.
As an ex-snorer myself, and someone who's worked in the sleep-industry for 20+ years, I really do get it.
Snorer.com exists to help you stop snoring, cut through the hype and get you sleeping together again. At Snorer.com our mission is simply to ensure you're informed and treated appropriately.
Check out our free, award-winning, evidence-based Information Guides.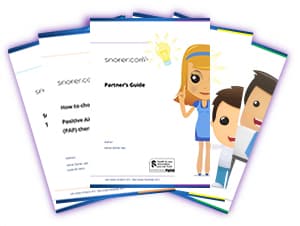 Page created by Adrian Zacher.
Last updated 14th August 2018.